Ligthweight Travel Small 5 opvouwbare paraplu
Deze Travel Compact 5 opvouwbare paraplu is de betrouwbare partner van de gebruiker als deze onderweg is. Ultralicht en compact ontwerp tot nu toe, de brede luifel die de gebruiker een schuilplaats biedt in een plotselinge stortbui of de harde UV-stralen in de warme zonnige dagen blokkeert.
Deze Pocket 5 Section Folding Umbrella is een duurzame en superlichte paraplu die netjes in de gebruikerszak of jaszak past. De Lightweight Color Coating Fabric is de nieuwste wetenschappelijke en technologische prestaties van onze vertrouwde leverancier van stoffen. Het is extreem dun en zacht.
Deze stijlvolle en opvouwbare paraplu heeft een veiligheidsrunner om de gebruiker te helpen de paraplu soepel zonder gedoe te openen. Travel Compact 5 opvouwbare paraplu is verrijkt met ijzeren, aluminium en FRP-ribben die zijn stevige constructie maken. Bovendien is het gemaakt van metaal en aluminium om het nog duurzamer te maken. De plastic handgreep is comfortabel in de grip en niet glad. Het heeft ook legeringstips om het zelfs lichter te laten lijken.
We hebben marktonderzoek gedaan naar de OEM Portable 5 Folding Umbrella , we hebben wat meer welkome kleuren geadopteerd bij vrouwen bij het kiezen van een luifeldoek. De mooie en pure kleur, zonder enige complexe patronen passen perfect bij elke outfit. Neem voor meer informatie over ons OEM-proces nu contact met ons op!
Gerelateerde producten: Custom Branded Compact Promotionele 3 opvouwbare paraplu | Double Canopy Auto Open en Dicht opvouwbare paraplu Wijngekleurd houten handvat 2 opvouwbare paraplu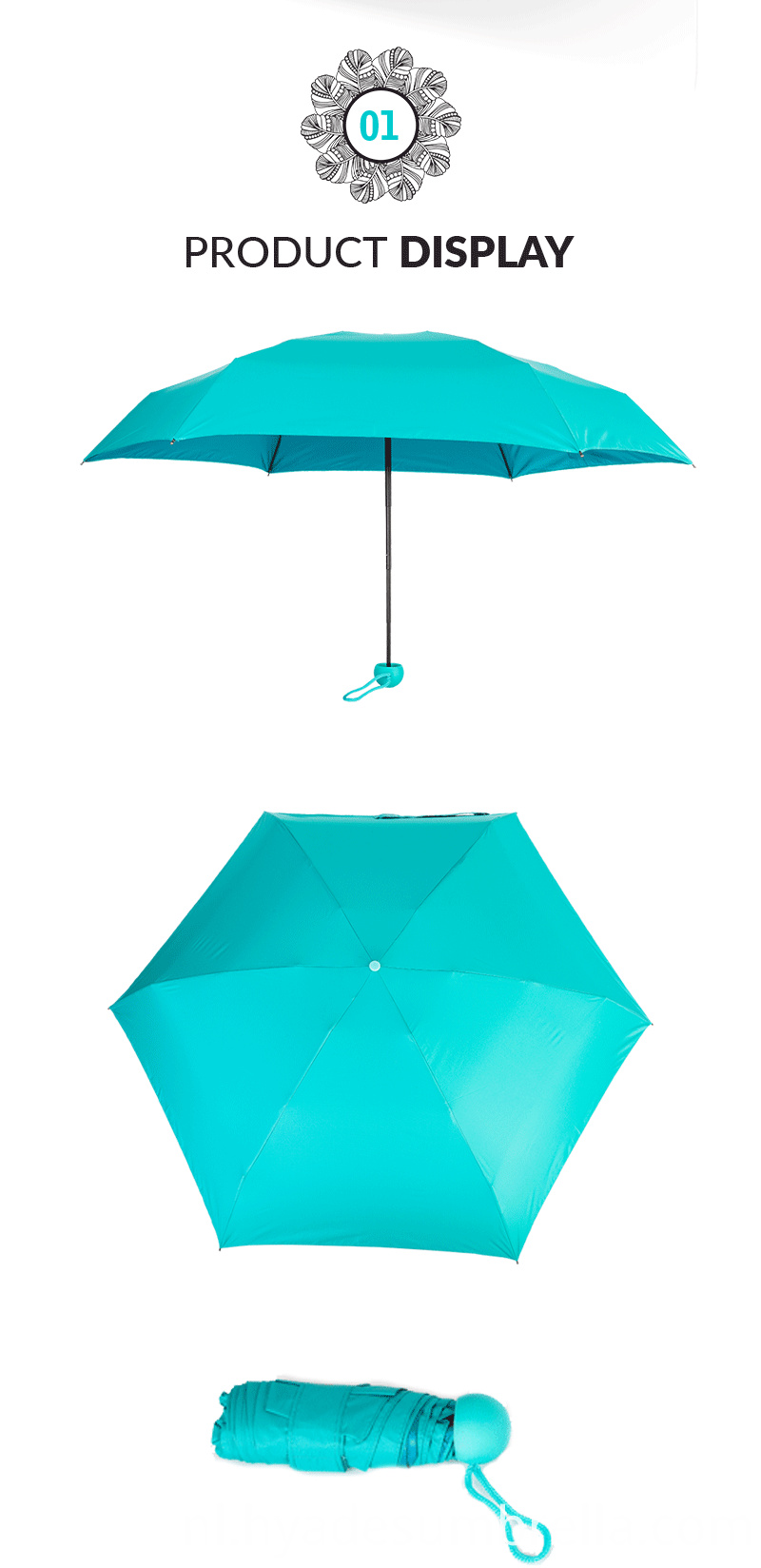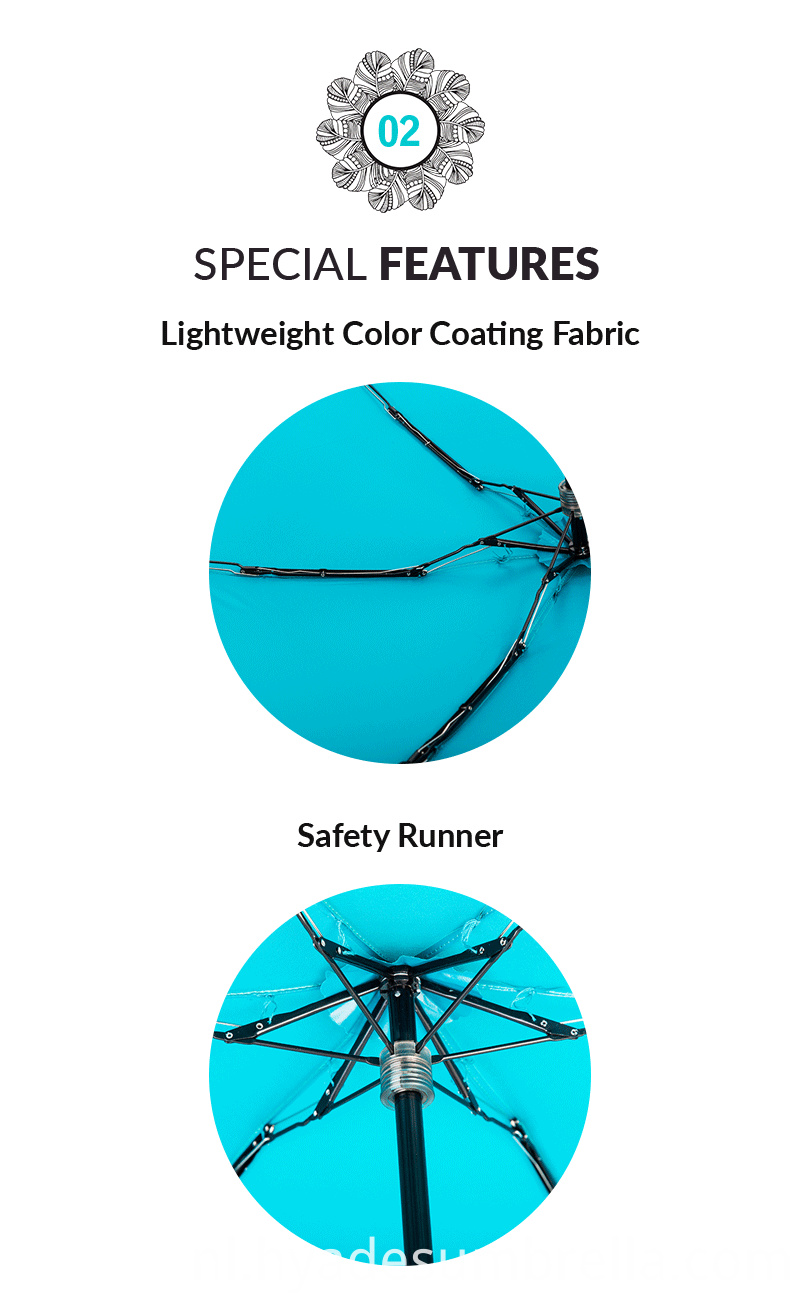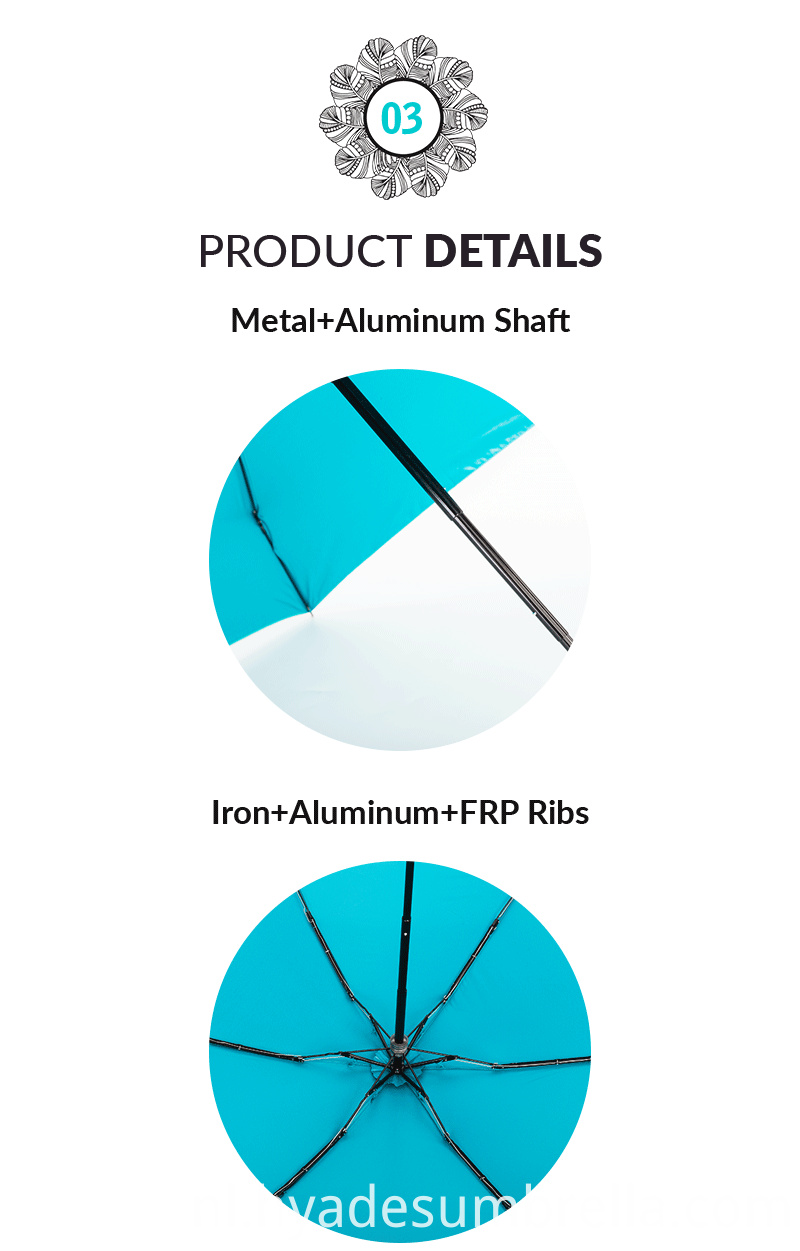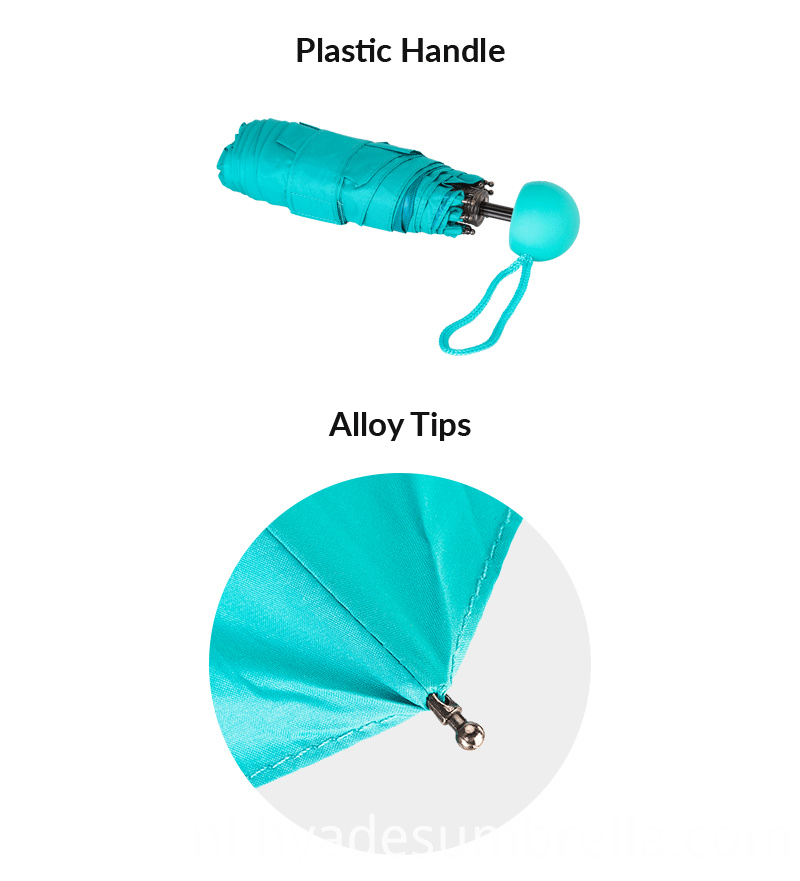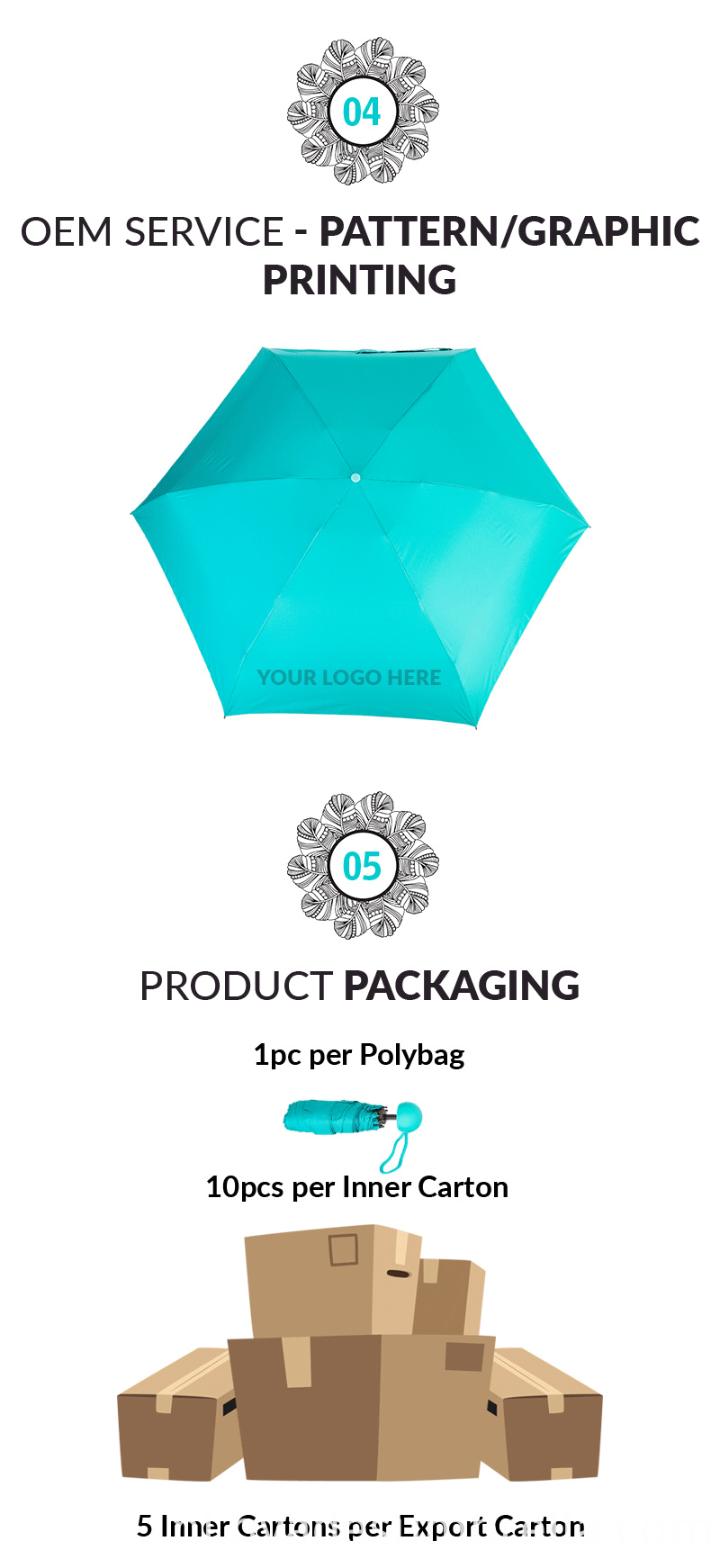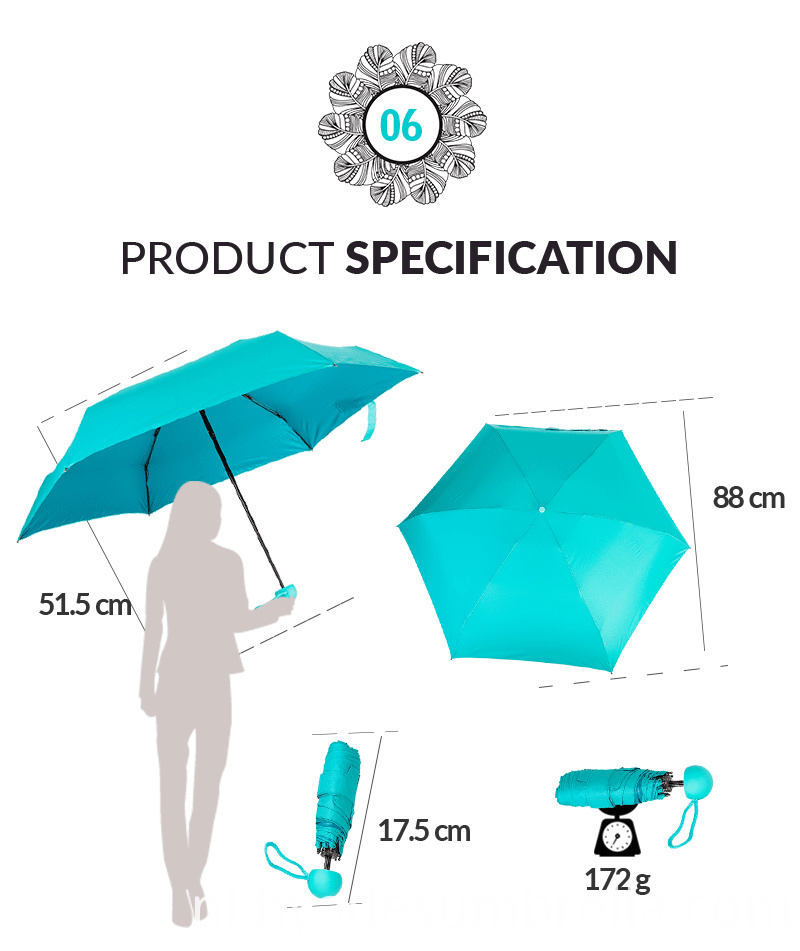 | | |
| --- | --- |
| *Details: | |
| Weight: | 172g |
| Arc.: | 49 cm |
| Diameter: | 88 cm |
| Closed: | 17.5 cm |
| Height when open: | 51.5 cm |
| Sleeve: | Yes |
| | |
| Fabric: | 100% Formosa Lightweight Pongee |
| Color Coating | Yes |
| Waterproof: | Yes |
| Water-repellent: | Yes |
| | |
| Frame: | |
| Shaft: | Metal+Alumium |
| Ribs: | Iron+Alumium+Fiberglass (FRP) |
| Handle: | Rubbery Coating |
Hyades-paraplu OEM-bestelprocedure: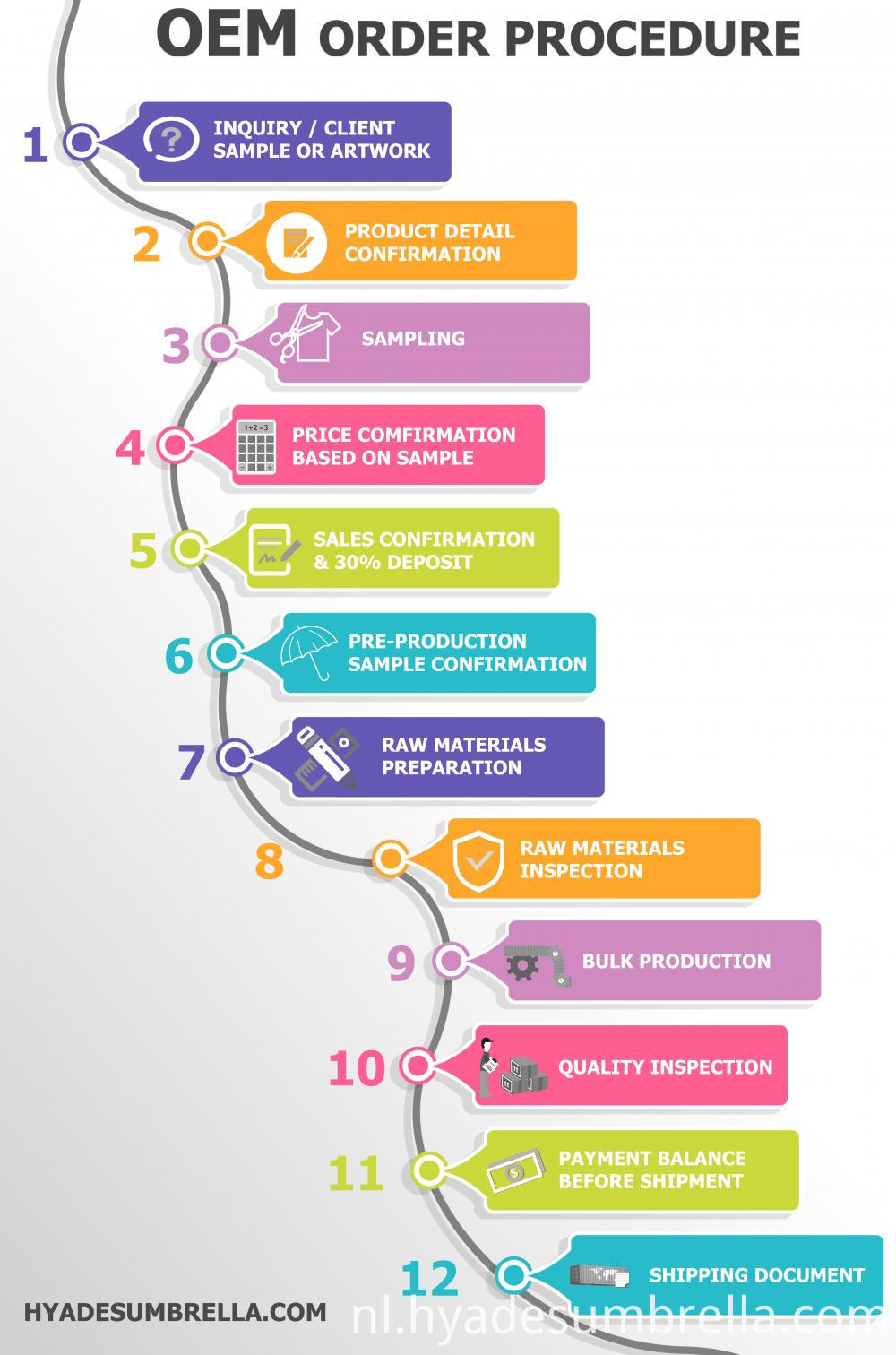 Product Categorie : Opklapbare paraplu > 5 Opklapbare paraplu