Deze gele decoratieve display kleine speelgoedparaplu kan binnenshuis worden gebruikt om muren te decoreren of om ze buiten op te strikken. De gebruikers kunnen hun fantasie de vrije loop laten. Alles gaat bijvoorbeeld in het leuke tropische paradijs dat ze van deze paraplu zullen maken.

Deze gele miniatuurspeelgoedparaplu heeft een veiligheidsrunner om te voorkomen dat de vingers zich verwonden bij het openen en sluiten van de paraplu. Zelfs het is klein, het is gemaakt van het metalen frame, dus het is een duurzame speelgoedparaplu. Ook heeft het velcro sluitband zodat de gebruiker het ook veilig kan houden. Net als bij een gewone paraplu heeft deze ook een bijpassende handvat, dop en tips.

Deze gele speelgoedparaplu voor display is een heel schattig en uniek product van Hyades. Het materiaal is van hoge kwaliteit, deze kleine paraplu's zijn perfect voor decoratie, als prop of als collectie. Met gele kleur en een zeer stevige constructie, deze kleine parasols behoren tot de grote voorbeelden van unieke kwaliteitsvolle producten van Hyades Noble.

Elke ODM Small Toy Umbrella Yellow Colour is met de hand getest en geïnspecteerd tijdens elke stap van het fabricageproces om geen defecten te garanderen voordat het uit de fabriek wordt verzonden. We zijn ervan overtuigd dat u dol zult zijn op deze gele miniatuur kleine speelgoedparaplu, omdat deze perfect zal presteren zoals wij het beloven.
Gerelateerde Producten: Women's Vintage Lace Pagoda Parasol Parasol | Met franje bedrukte zilveren coating Hand Open Dome paraplu | Flower Picot Lace Parasol Sakura-paraplu voor dames | Ruffle Lace Reflective Kids Safety Open Umbrella



| | |
| --- | --- |
| *Details: | |
| Weight: | 59g |
| Arc.: | 19 cm |
| Diameter: | 29 cm |
| Closed: | 27.5 cm |
| Height when open: | 27.5 cm |
| Sleeve: | Optional |
| | |
| Fabric: | 100% Pongee |
| Waterproof: | Yes |
| Water-repellent: | Yes |
| | |
| Frame: | |
| Shaft: | Metal |
| Ribs: | Iron |
| Handle/Cap: | Matching Color Plastic |
Over ons:
Hyades Umbrella is een allesomvattend bedrijf dat ondersteuning, kennis en advies biedt voor uw paraplu's. Het is belangrijk om te werken met een bedrijf dat diepgaande kennis heeft van parapluproductie. Om ervoor te zorgen dat alle technische elementen nauwkeurig worden gecommuniceerd, kunnen we nauwkeurige specificatiebladen leveren, inclusief materialen, kleurstalen, monsters en pre-productiemonsters, zodat de bulkproductie voldoet aan uw ontwerp.
Paraplu productieprocedure: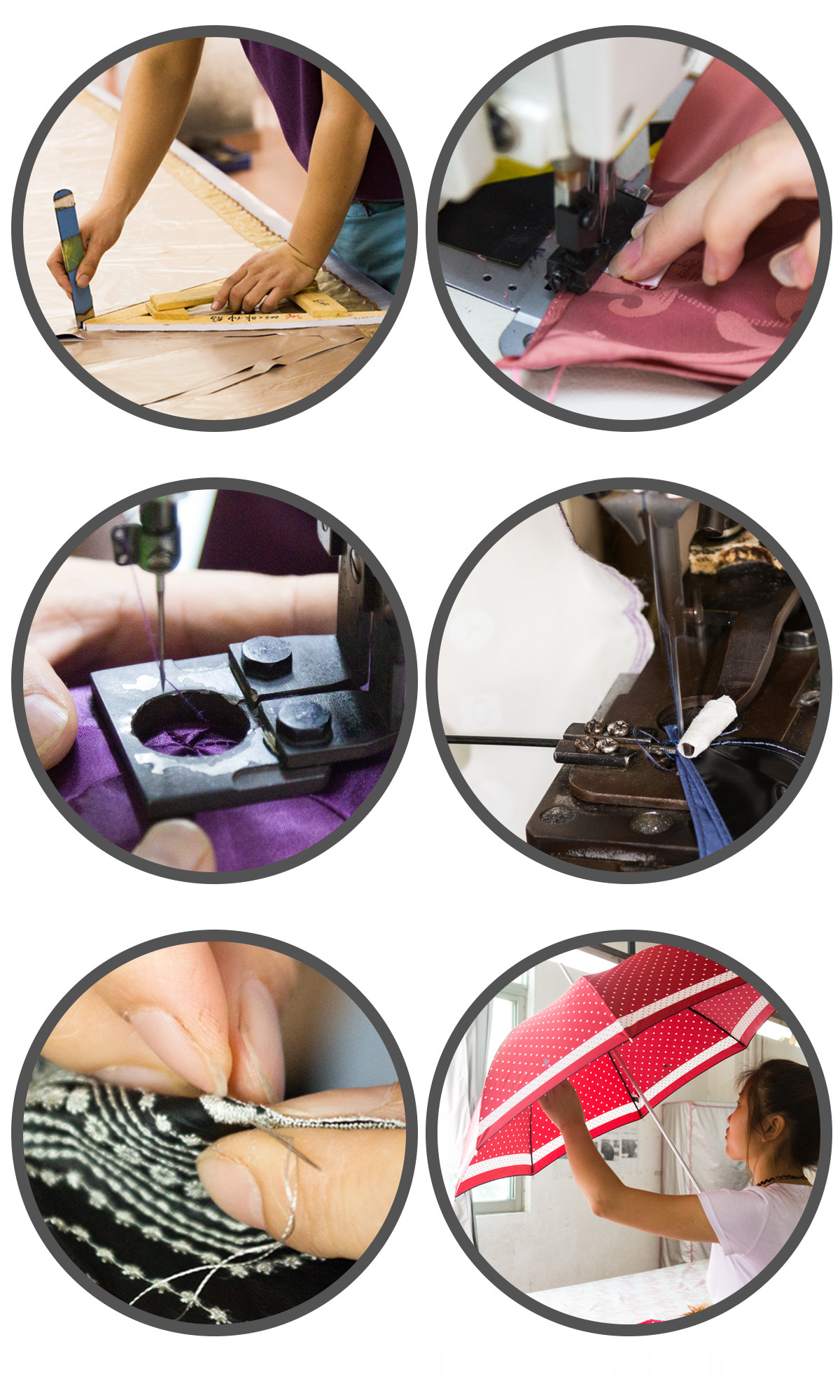 Product Categorie : Speciale paraplu > Toy Umbrella