Lichtgewicht Easy Carrying 3 opvouwbare paraplu
Lichtgewicht Easy Carrying 3 Opvouwbare paraplu is best gemakkelijk om altijd en overal mee te nemen. De kenmerkende potloodmaat van deze paraplu zorgt ervoor dat deze handig past in een rugzak, tas of koffer. Easy Carry 3 Section Folding Umbrella is de perfecte combinatie van draagbaarheid, bescherming en duurzaamheid. Deze is gemaakt van Formosa Lightweight Color Coating Fabric, dat zorgt voor een effectieve, koele schaduw onder de zon.
Deze 3 Section Folding Umbrella is gemaakt van een zeshoekige schacht die inklapbaar is en niet gemakkelijk te verbreken is voor diegene die hem verkeerd gebruiken. Dit soort paraplu-as is zeer nuttig omdat het de duurzaamheid aan de paraplu toevoegt en de as helpt soepel schuiven bij het openen of sluiten.
Color Coating 3 Section Folding Umbrella heeft een ribben van metaal + glasvezel (FRP) die bijdragen aan de lichtgewicht- en duurzaamheidseigenschappen. Het heeft ook een veiligheidsrunner zodat de gebruiker de paraplu eenvoudig kan openen en sluiten. De Easy Carry 3 Section Folding Umbrella heeft een metalen plastic handvat dat past bij de kleur gele stof. Het heeft ook een afsluitband voor het maken van magische banden die de paraplu helpt te bevatten wanneer deze niet in gebruik is.
Om deze paraplu te bestellen, neem dan zo vriendelijk contact met ons op via onze website en wij zullen snel reageren. Hier bij Hyades Umbrella bieden we de beste prijs op alle paraplu's en hebben we de mogelijkheid om flexibel te zijn in ons ontwerp en ook voor de belangrijke leverdata.
Gerelateerde producten: Lichtgewicht winddichte gekleurde handleiding Open rechte paraplu | Big Size winddichte lichtgewicht gewone golfparaplu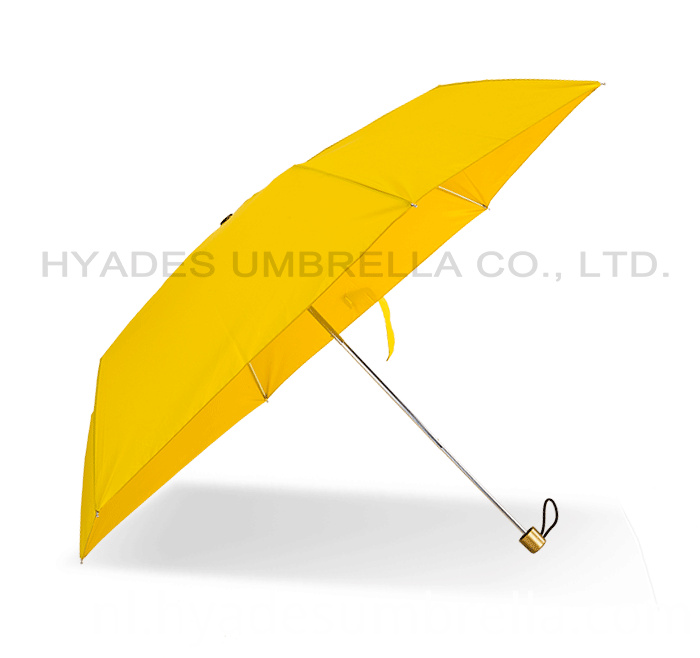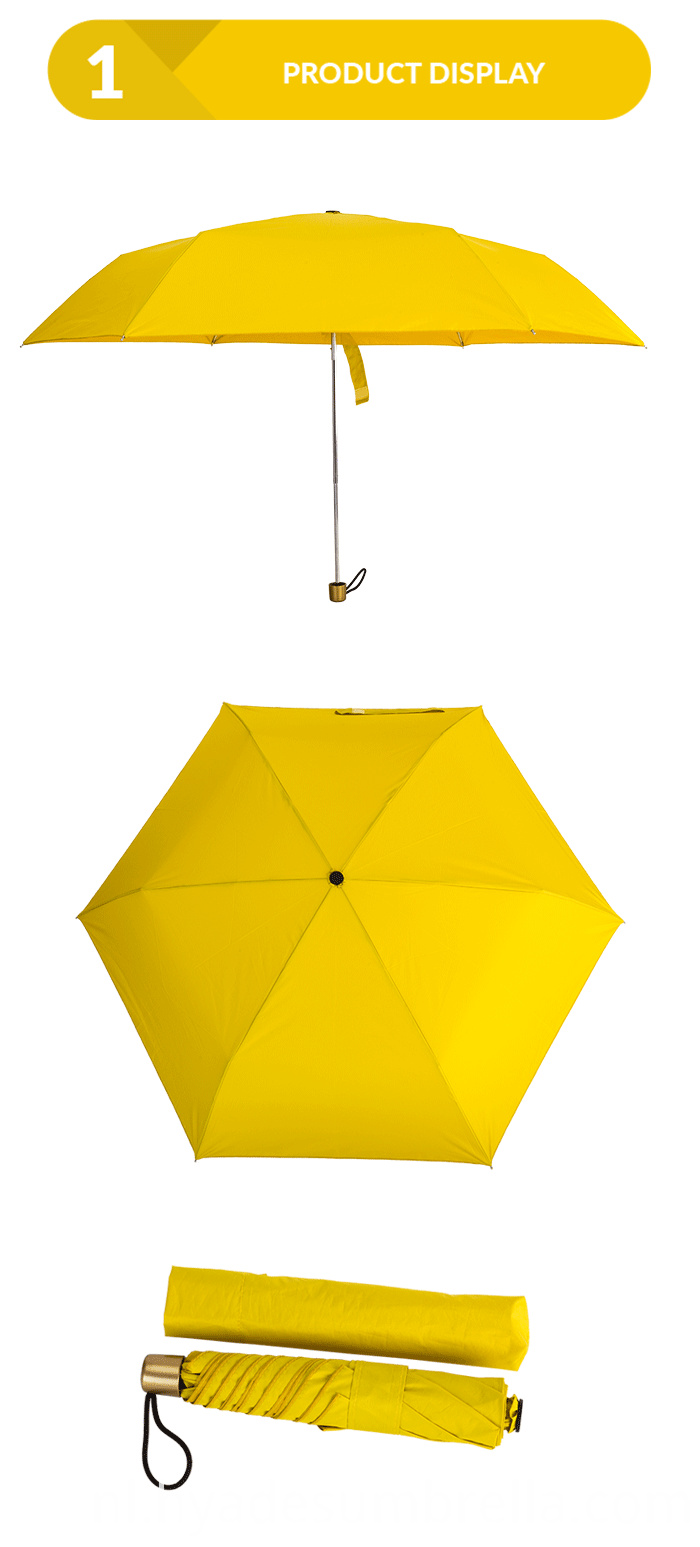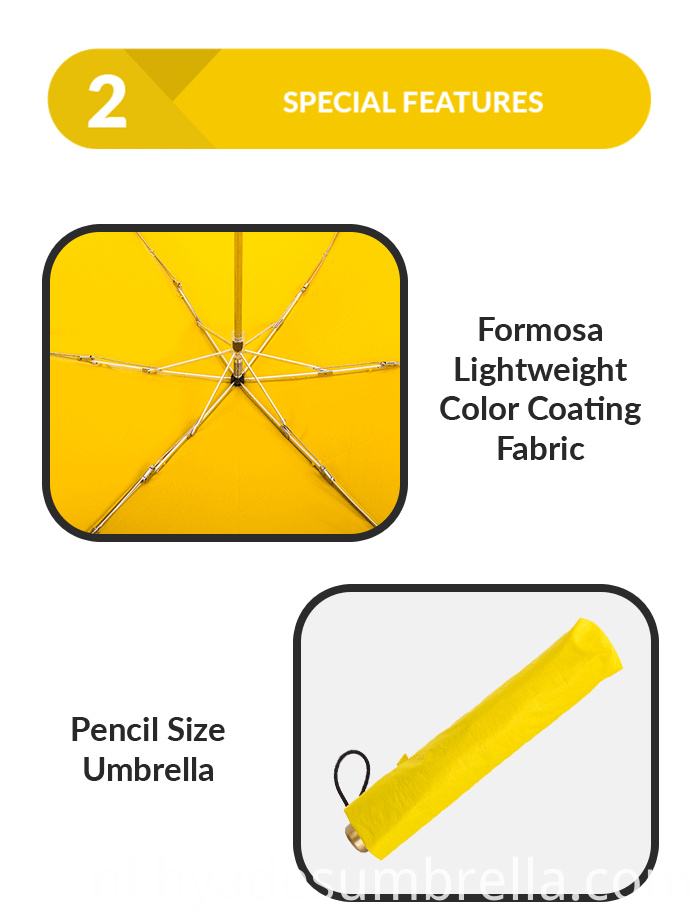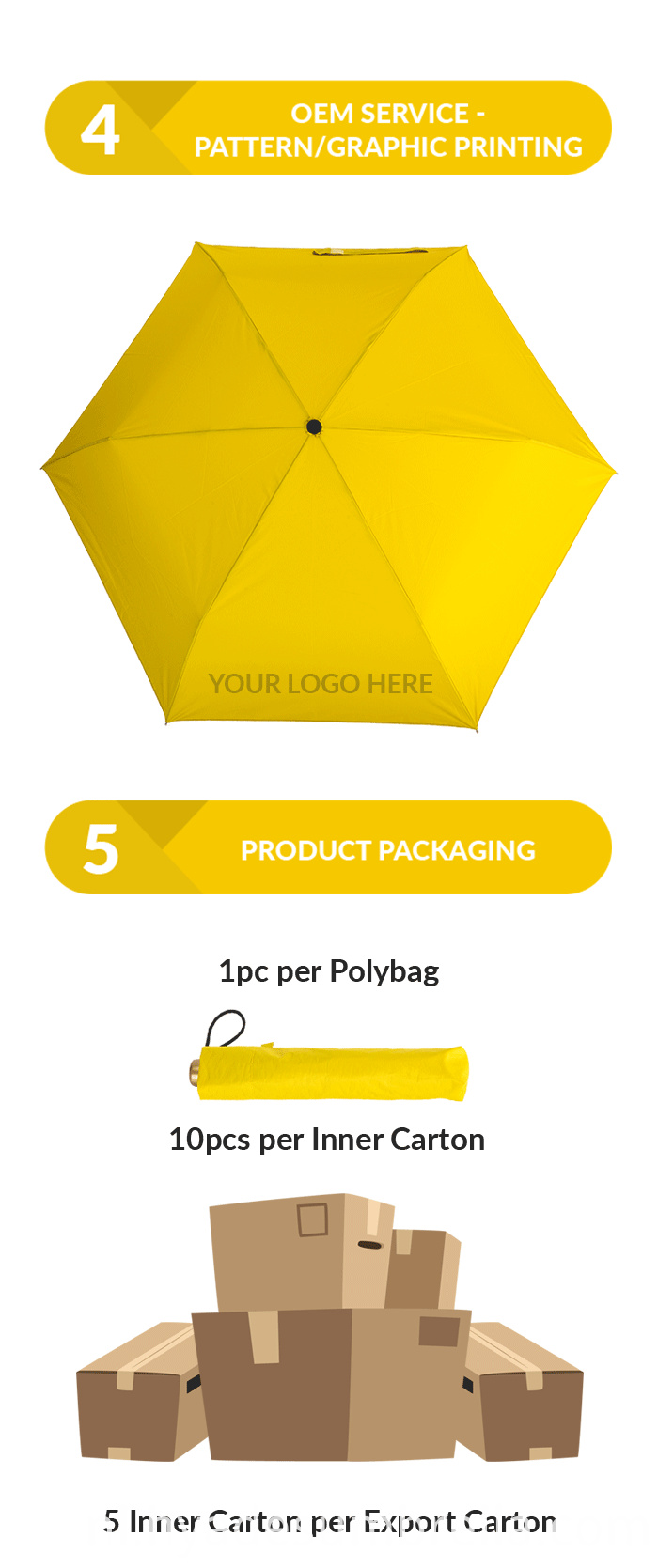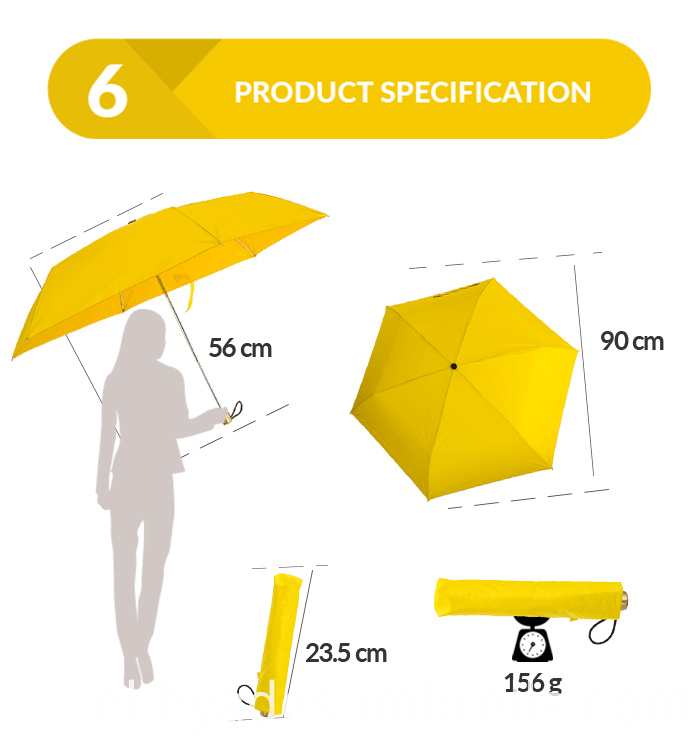 | | |
| --- | --- |
| *Details: | |
| Weight: | 156g |
| Arc.: | 50 cm |
| Diameter: | 90 cm |
| Closed: | 23.5 cm |
| Height when open: | 56 cm |
| Sleeve: | Yes |
| | |
| Fabric: | 100% Formosa Lightweight Pongee |
| Coating: | Color Coating |
| Waterproof: | Yes |
| Water-repellent: | Yes |
| | |
| Frame: | |
| Shaft: | Alumium + Iron |
| Ribs: | Alumium+Fiberglass (FRP) |
| Handle: | Plastic |
Over ons:
Hyades is een Taiwanese onderneming die gespecialiseerd is in het vervaardigen van diverse luxe paraplu's. De missie van ons bedrijf is om de hoogste kwaliteitsstandaard in het veld te bereiken en verder te gaan dan de verwachtingen van onze klant.
De productiereeksen zijn van Rechte Paraplu, Vouwende Paraplu, Auto Open en dichte Paraplu, aan Golfparaplu; van Adult, Kids Umbrella tot Specialty Umbrella; voor damesparaplu en herenparaplu; voor regenachtige dag en zonnige dag.
Wij zijn een allesomvattend bedrijf dat ondersteuning, kennis en advies biedt voor uw paraplu's. Het is belangrijk om te werken met een bedrijf dat diepgaande kennis heeft van parapluproductie. Om ervoor te zorgen dat alle technische elementen nauwkeurig worden gecommuniceerd, kunnen we nauwkeurige specificatiebladen leveren, inclusief materialen, kleurstalen, monsters en pre-productiemonsters, zodat de bulkproductie voldoet aan uw ontwerp.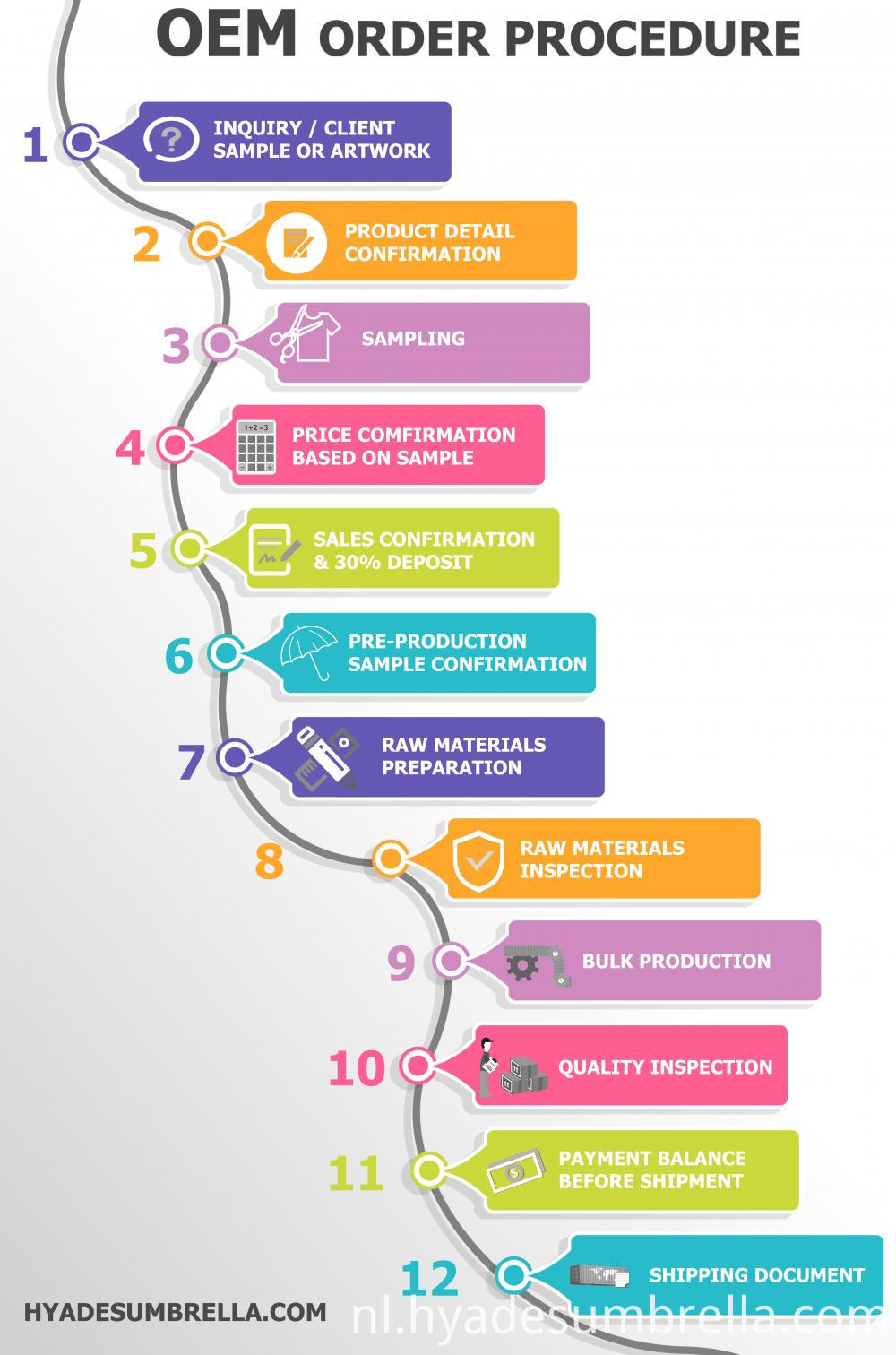 Product Categorie : Opklapbare paraplu > 3 Opklapbare paraplu